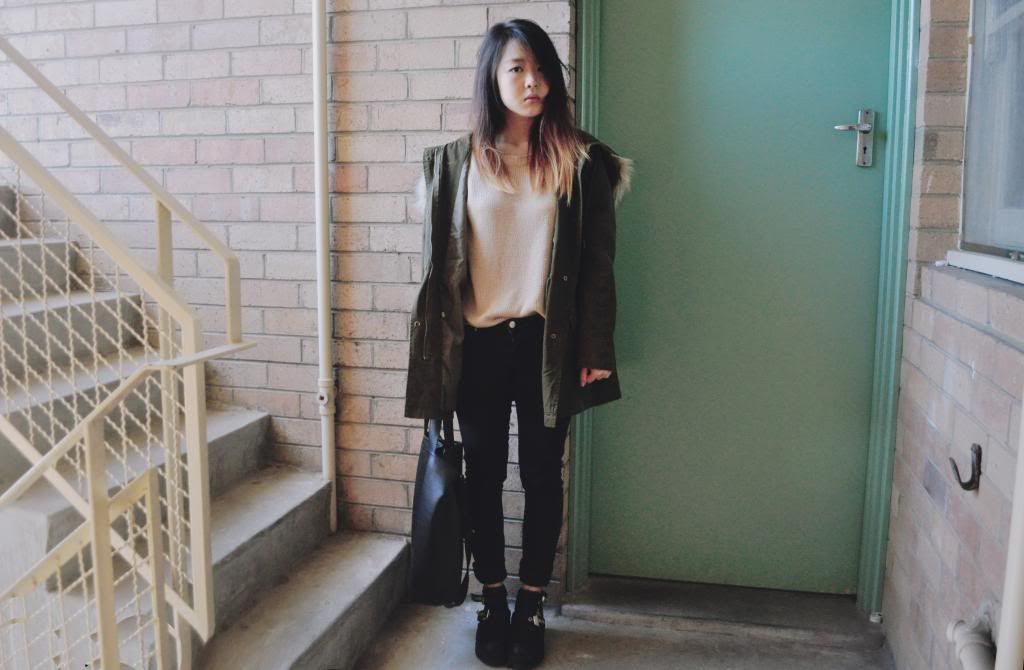 Anorak - Valleygirl; Knit - Forever 21, Chunky Cut Out Boots - Sportsgirl; Bag - Singapore

I think this outfit is a combination of my favourite and overworn pieces. The jacket is actually a size
12 but it doesn't look ridiculously oversized, surprisingly. It was a bargain too at $20.

Anyways, it's good to be back, I've missed this space! I've been working heaps and every time
somebody asks me what I've been up to, my reply would be work. Just work. My social life is pretty
much non-existent at the moment and I barely have the time to blog ever since I started working.
Being a student with various uni commitments and juggling two jobs while staying on your own is
not easy at all. Almost every time I get back from work, I tell myself that I'll take a quick nap before
blogging but I would end up falling asleep on the couch instead. Getting days off makes me happy
because it means I get time to catch up on sleep and time to do the housework.

Being a grown up is hard.

I'm not complaining though. I love work and I can't remember when was the last time my bank
account looked so healthy. I just wish that there wish that there were more hours in a day.